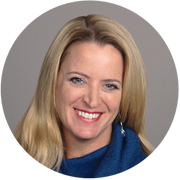 Gretchen O'Brien
Director of Consulting Services
Gretchen is a Director of Consulting Services with MCG Partners, a women-owned consultancy specializing in leadership and talent optimization. Gretchen is responsible for working with our clients to optimize their talent and organizational needs.
Most recently, Gretchen worked at Not Your Average Joe's Restaurant Group as the Senior Director of Human Resources, where she aligned HR strategy with the organizational vision, objectives, brand and culture.  Gretchen provided advisory and consulting services delivering customized training programs. She utilized the Predictive Index® (PI)® for selection, onboarding, succession planning, team building, management effectiveness and performance management.
As a Human Resource professional for over 15 years, Gretchen has empowered employees at every level to thrive. She has worked with executives in the hospitality and retail industry to implement key project goals. These projects ranged from restructuring the talent acquisition process of a $300M organization with over 6,000 employees to creating a comprehensive annual review board with senior executives to ensure goals were attainable, realistic and aligned with business strategy.
Earlier in her career, Gretchen built a successful recruitment and staffing business where she managed the client development and recruitment process in the U.S. Gretchen provided coaching, succession planning, new hire assimilation and supported business openings by ensuring management talent at all levels.
Gretchen graduated from the University of Rhode Island with a Bachelor's degree in Communications. She completed her SPHR coursework at Bryant University and is a certified Analyst in the Predictive Index® (PI®). She is also a certified low and high ropes course Instructor.
She, her husband and two daughters live in greater Providence, Rhode Island. She enjoys power yoga, hiking with the family dog and culinary experimentation.